Applicant Tracking

If your company spends a lot of time doing data entry for your applicants background checks, we have the solution for you!. Our innovative new EasyClick Screening system can seamlessly connect your applicants' job applications with their background checks. No more data entry. You simply need Click once to screen your applicants.
---
INFOCHECKUSA CAN PROVIDE YOU WITH A CUSTOMIZED AND EASY TO USE JOB APPLICANT, JOB BOARD & SCREENING SYSTEM
InfoHIRE is FREE with all Business Accounts!
InfoHire is an exciting new opportunity for InfoCheckUSA to extend and grow our offering to our clients. InfoHire allows InfoCheckUSA to offer more services to the HR community, create a more seamless recruiting and hiring process.
The InfoHire: Online Employment Application gives our clients the ability to take employment applications online with the flexibility to update the colors, logos, and specific verbiage to that of their business and automatically order background checks directly from the application.
InfoCheckUSA client's can simply:
• Create an "Apply Now Link" on their website
– place a link on your home page which sends the applicant to the InfoHire page located on your site
• Load the application on a "Hiring Kiosk"
– you can load your InfoHire page at an internet connected kiosk or application center at your business
• Recruiter can easily manage applicants from 1 dashboard
– your new job applicants show up in your dashboard and you can easily manage them with a point and click and send them to background screening.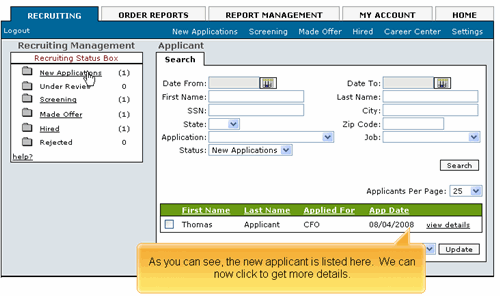 • Have the recruiter send out a link
– the company recruiter can send out the link to the InfoHire page to pre-qualified applicants
• Job Board - Show all your employment positions
– the company recruiter can list all open job positions which is integrated with the company online custom job application. Customize your company colors and logos.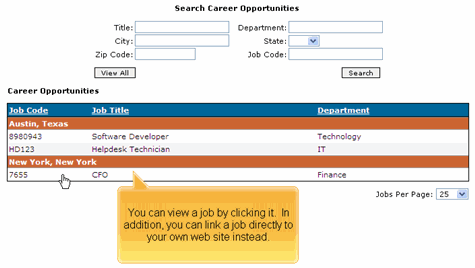 InfoCheckUSA can support you by:
• Hosting a "Job Fair" and have the online application available
– host a "job fair" by sending interested parties to look at the jobs you have available at your office and/or conference location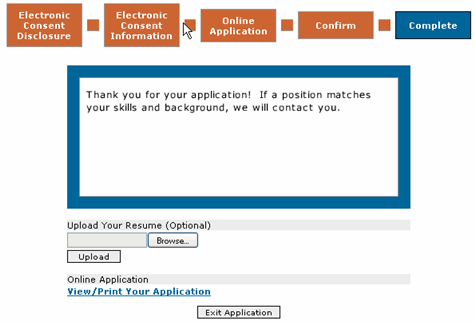 • Offer staffing services for you
– Use the on-line application internally to recruit and screen potential employees that you we can place for our clients.
Our Application System Offers:
Key Functionality
- "Recruiter" tab where applicants are stored
- Ability to print application
- Ability to search applicants
- Ability to archive and delete applicants
- Ability to generate declination letters configurable per client
- Ability to send background searches via an automated ordering approach from an online application
- Application branded to employer customer with logo
- Secure HTML Application Page
- Application form that captures key baseline applicant information
- Signature forms printable from the application
- Application printable and savable by applicant
- E-mail notification of success application received to applicant
- Career and Job Center - list all your available jobs by city, state or zip code.
PLUS:
- Ability to send application for screening in an automated ordering approach from an online application
- Ability to sort by applicant name, date, and job type
- Auto notice to selected recruiter of application submission
- Ability to toggle how often customers are notified of new applicants (one at a time or batched)
INFOHIRE is FREE with all Business Accounts!
---