HealthCare Background Screening

Whether for healthcare employees, physicians, or contractors, no one focuses more resources on your screening needs than InfoCheckUSA. The healthcare industry requires the most comprehensive background screening in the industry. InfoCheckUSA provides JCAHO compliant background screening solutions for the healthcare industry and can provide customized screening packages based on your organizations needs.
---
MedCHECK provides background information on healthcare individuals and organizations. This search meets the requirements for screening by the Office of Inspector General's Compliance Program with information from the following federal sources:
OIG (Office of Inspector General)
GSA (General Services Administration)
FDA (Federal Drug Administration)
DEA (Drug Enforcement Administration)
Tri-Care (Formally Champus)

Other State and Federal Agencies
IMPROVE COMPLIANCE AND DECREASE YOUR RISK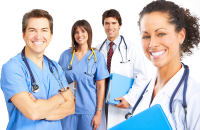 Our comprehensive healthcare services help reduce non–compliance exposure, aid in quality staffing decisions, and protect the healthcare industry from civil and non–compliant penalties. This service can be customized to meet any level of risk protection your clients require.

MedCHECK Report (FACIS)
Provides sanction information, for all 50 states, on healthcare INDIVIDUALS. This search meets the requirements for screening by the Office of Inspector General's (OIG) Compliance Program with information from the following data sources: OIG, General Services Administration, Federal Drug Administration, Drug Enforcement Administration, and Tri-Care (formally Champus). Results: Instant (volume discounts available)
A FACIS® (Fraud and Abuse Control Information System) search identifies any wrong actions of individuals and entities in the health care field. (FACIS® is a registered trademark of Verisys Corporation).This includes information on disciplinary actions ranging from exclusions and debarments to letters of reprimand and probation. Our FACIS® search offers three options, ranging from the minimum federal requirements to a search inclusive of more than 800 sources in 50 states.

Choose the level that best fits the needs of your facility:

LEVEL 1: We search the Office of the Inspector General (OIG) and General Services Administration (GSA) and other federal sources. This search meets the govt's minimum requirements as outlined in the OIG's Compliance Program Guidance. Fee: $6.95

LEVEL 3: We search OIG/GSA and other federal sources, in addition to over 800 sources from all 50 states. While this search exceeds minimum federal requirements, it offers full coverage for a high-level risk management policy. Fee: $11.95


MedCHECK360 Comprehensive Report

Get the most comprehensive background search for your medical professionals. Includes 360 degree coverage to help your medical organization make the best hiring decisions and maintain compliance. We can also create custom screening packages for your company.
Report Includes:
National Criminal SUPERSEARCH

SSN IDentity Verification

National Sex Offender Search

Federal Criminal Check

County Level Criminal Check

Professional License Check

MedCHECK FACIS Level 1 Check
Search Fee: $49.95
Optional Checks for an Additional Fee: Education Verification, Reference Check, Previous Employment Verification, Drug Testing.

Education Verification: Degrees | Diplomas | Certifications
This search provides verification of education status in a specified Post Secondary Education institution. GED and High School Results available from same day to 5 days. We also verify certificates. Search Fee $14.95 (plus school fees if any)

Professional License Verification
Our license check service is useful for verifying professional license and certifications, as well as providing the subjects professional standing with a regulatory body. Based on the information submitted, we contact the necessary licensing agencies, and verify standing, as well as verifying dates and any other information crucial to the license. Results available 24 to 48 hours. (Example of verified licenses: CPA, MD, RN, PE, PA, PT, EMT, CIA, etc....)Search Fee $14.95.

Drug Testing
Employers receive negative results online within 15-minutes of test completion. Rapid response to job applicants increases the odds of employers securing their first choice candidates. iScreen offers a comprehensive library of products and software which automates and accelerates the hiring process for the employer, the donor and the clinic. iScreen is revolutionizing the drug testing industry with an electronic web-based network.
Screening Fees: $39.95 to $69.95 | Click for More Info
---