SSN IDentity Verification

SSN background checks verifies a persons name and address history which allows you to effectively confirm their identity. This search is perfect for validating job applications and for skip tracing services. This search should be ordered with a criminal history check.
---

SSN IDentity Background Check + Address History


This report provides up to date information on a person's name, addresses, and aliases, instantly. This search is an excellent tool for locating people and verifying a social security number that can date back as far as thirty (30) years. The Address History product searches a database of collected information from thousands of sources - it pulls information from all 3 major credit bureaus, local telephone companies, and personal mortgage lenders. The most effective way of using this tool is to take all the addresses displayed and find out their associated states and counties. Once you have this information, you can begin to run some of the most basic but powerful searches for criminal records; the county and statewide criminal searches. Default search period is 7 years (upon request the search period can be changed) . Results available instantly! Search Fee $5.00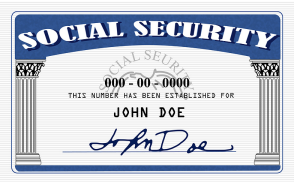 Our VALIDATION Process will also provide the following:
| | |
| --- | --- |
| Valid SSN | yes |
| State Issued | North Carolina |
| Date Issued | 1992 |
This valid statement is based on a mathematical assessment by the database that equates valid to the greater statistic of the provided name as a match to the SSN. If this equation shows matches to another name that reduces this statistic you may receive a valid statement of maybe or no. If you receive a valid statement of deceased then the applicant is using an SSN that is associated to a deceased person and is a high indication of fraud.
A.I.M. (Address Information Manager) provides up–to–date information on an applicant's past addresses and movement patterns based on name and Social Security number (SSN).



In addition to verifying and returning information on a SSN, A.I.M. provides a report with the following: full name and/or alternate names used by an applicant, dates at listed addresses, age/date of birth, and available phone information. A.I.M. is an investigative starting point that provides a more complete background search when combined with additional screening services. Note: From time to time, you may see Enumeration At Entry in the State Issued row. This simply means that the person recently immigrated and received a Social Security Number (that is, their number was chosen, or "enumerated," when they entered the country).
REDUCES OPERATIONAL COSTS AND SAVES TIME
In–depth time period coverage of up to 30 years for a more accurate and complete search.
The report includes information on the validity of SSN, other possible names or addresses associated with a SSN and the state and year of issuance.
Automatic searches in a user-friendly application that provides easy–to–read reports.
---
This information is to be used for research purposes only (to help determine what locations to search for county and state searches). On its own, the SSN Report information should not be used to affect a hiring decision.

Social Security Background Check | SSN Verification | SSN Trace | SSN Locator |
SSN Validator | Skip Trace | IDentity Theft