Criminal & MVR Codes Database

Do you have codes on your Criminal or Driving Background Report that you have no idea what they mean? Many times the reports will only contain abbreviated codes such as LIO, ADR, W02 or NOLO CONT. We have developed an exclusive search database that easily allows you to search the codes on your report. No more guessing or wondering what it means!
There are generic codes used by the courts across all 50 states but some States also have their own unique codes which can make deciphering background reports frustrating.
Our Court Codes Database contains over 1,000 general and state codes plus some civil codes and over 200 MVR Driving codes. We update the database daily to make sure all codes are covered. We will soon have all 50 states plus Canada Arrest Codes. No one else offers this type of search system!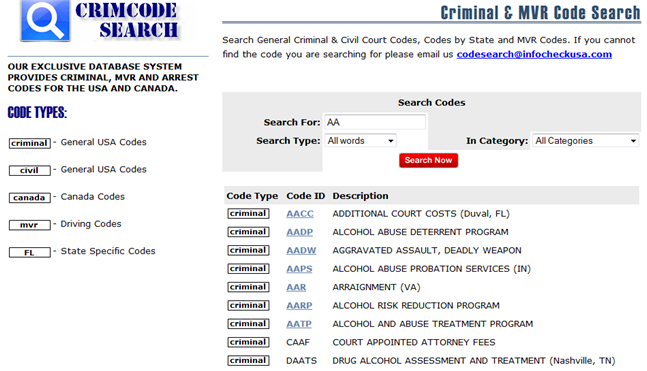 What does it Cost?
This database is provided FREE of Charge to our Clients.
If you are NOT a current client but would like to just use the database you can purchase an annual subscription for $99.95 which gives you UNLIMITED searches for 1 YEAR.
Click subscribe now to purchase a 1 YEAR Subscription. After your purchase is approved and reviewed by an Account Rep. you will receive a unique account login and password via email within 1 Business Day. Thank You.